Excursion south coast and glacier lagoon
Join this tour along Iceland's south coast to discover its stunning glaciers, lava fields, volcanoes, strong rivers and waterfalls. You will also see an amazing black beach scattered with icebergs, next to Jökulsárlón glacier lagoon. The stunning Jökulsárlón glacier lagoon is where huge icebergs float in ice cold water and seals swim around them.
Price of excursion: South coast 12.500 ISK  
The price includes accommodation.
Main places of interest:
Seljalandsfoss 45 min
Skógafoss and Kvernufoss 45 min
Reynisdrangar – black beach with basalt columns 45 min
Skaftafell National park  45 min
Jökulsárlón – glacier lagoon  60 min
Iceland is a place where weather can change every 5 minutes. In case of a heavy rain or a strong wind, the places of interest can be reduced. The decision is up to drivers responsibility.
1. Seljalandsfoss
60 meters high waterfall in a lovely location, sourrounded by cliffs and green slopes. Who wants can walk a footpath leads behind the waterfall. Just take some jacket ..its a bit shower. Souce of waterfall´s water is glacier everybody probably heard about – Eyjafjallajökull. This volcano erupt last time on 14th April 2010 when volcanic eruption threw ash several kilometers up in the atmosphere. This led to stop air traffic in most of Europe. The effect of the eruption turned out to be more widespread then even before in modern history. Because of the ash cloud aproximetlz 107.000 flights were canceled during an 8 day period and 10 million passengers were affected. The Ejafjoll volcanic system is stratovolcano with developed 2,5 km wide caldera. Four eruptions are known in historical times, in 920, 1612, 1821-22 and 2010. Jökulhlaups (glacier outburst floods), created by lava melted snow, destroyed many parts of the road n.1 and long time after volcano got to be silent again, you could see how volcanic ash covered usually green meadows along the coastline.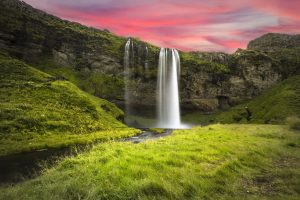 2. Skógafoss
Skógafoss is starting or ending point of very famous and beautifull hiking path Skógar – Thórsmork (25,7 km). The walk begins at Skógafoss Falls on the east side of the river. Path leads between two glaciers
Eyafjallajokull and Mýrd. ls, following river with small or bigger 23 falls, via lava fields full of sulfur steams, icecap of galcier, deep valleys of god Thor etc.
Waterfall itself is 60m high and 25m wide. According to legend, the first Viking settler in the area, firasi fiórólfsson, buried a treasure in a cave behind the waterfall. On fine days, when the sun is shining, people say that his gold is glittering through the water. Many have tried to find the chest and once a young man succeeded. He tied a rope to its ring and pulled. He only retrieved the ring, which was later used for the church door at Skogar. Now it is one of the prides of the Skófar museum.
4. Black Beach
Road n.215 Reynishverfisvegur runs down to Reynisfjara beach. Reynir is a farm that dates from the settlement of Iceland. The land was claimed by Reyni-Bjorn from Valdres in Norway. His holdings extended from Kerlingardalsá to Hafursá. The events behind the folk tale of the church-builder of Reynir are said to have a taken place here. The first church at Reynir is mentioned in the ecclesiastical register of 1200. In 1897, the church was moved to the site somewhat farther south. In the local cemetery is buried physician and naturalist Sveinn Pálsson (1762-1840) from Sudur Vík, who was famous for his studies of Icelandic glaciers.
According to legend the Reynisdrangar needles were formed when two trolls were trying to drag a three-masted ship to land, but daybreak overtook them before they could reach the safety of the mountain, they turned to stone. The needled can be seen clearly from the village of Vík or from black beach. They are 66m high. They are named Skessudrangur, Langhamar and Landdragur. We will walk for a while along black beach under basalt clifs. The cliffs are home to countless puffins, kittiwake and fulmar, you can see them hunting for fishes taking off from nests.
5. Dyrhólaey
Dýrh.laey is the southernmost promontory in Iceland. You can admire here nature reserve (closed during bird nesting period) huge seaeroded arch, view from high cliffs or lighthouse building. The highest elevation of 115m being on the west. The boast up to 30 tons can pass through gap under the arch. In 1995 two adventurers flew in a small aircraft through it. The island was formed by volcanic eruption 100 thousand years ago. The lighthouse is "little bit" younger build in 1910 and the present structure dating to 1927, has the largest lens of any lighthouse in Iceland. For centuries, boats were launched from Dyrhólaey when people still rowed out to sea to fish. The coastline of Mýrdalssandur is constantly changing. Until the 14th century the ocean reached Hjorleifsho›i and until the Katla eruption in 1660 it reached cliffs east of Vík. During Katla eruption in 1918 the southcoast was extended by several kilometers making Kotlutangi the southernmost point in Iceland for decades, but now the Dýrh.laey is the southernmost.
6. Skaftafell in the Vatnajökull National park
Within Skaftafell, some of Iceland's greatest natural treasures are to be found. The Skaftafell National Park was officially established September 15, 1967 and at that time it covered approximately 500 km2. The national park has twice been expanded. First June 27, 1984 when it was expanded to 1.600 km2, and again in 2004, when it became 4.807 km2. Skaftafell National Park then became a part of Europe's largest national park, Vatnajökull National Park, which was established June 7, 2008 and covers over 12.000 km2. That accounts for 12% of Iceland's surface, and makes it the biggest national park in Europe. Vatnajökull is Europe's biggest glacier and the 3rd biggest in the world. To begin with, the national park will cover the whole of Skaftafell National Park and the Jökulsárgljúfur National Park, in addition to almost whole of Vatnajökull and the surrounding area.
Skaftafell is a rare oasis for flora, surrounded by sands and lakes. Öræfajökull (a part of Vatnajökull) provides excellent cover in Skaftafell, which makes it renowned for its good weather. The tallest peak in Iceland is Hvannadalshnjúkur (2.110 m) which is in Öræfajökull. The area has been shaped by volcanic eruptions, glaciers and lakes, that have created diverse and unique formations. In the area you can find around 250 types of vascular plants and the nesting places of around 30 different species of birds. It is therefore safe to say that Skaftafell is the home of luxuriant flora in between sands and glaciers, where unique natural beauty is to be found. The area is renowned for its good weather and beautiful scenery which can be enjoyed from various walking paths within the area, that are suitable for all. Access to glaciers on the outskirts of the national park is currently being improved with marked paths.
According to nature conservation laws, national parks are protected areas owned by national governments or privately. These areas have distinctive landscape, vegetation or animal life, or historical inviolability that gives reason to preserve them. The goal of nature conservation laws is to protect unique areas so that future generations can have the opportunity to enjoy them as we do. It is important to preserve land to be able to compare it to land that is used differently. To ensure that the purpose of the preservation is met, certain rules of conduct are in place in protected areas. National parks are open to the public, as long as they follow these rules. Therefore, it is important that you familiarize yourself with these rules before visiting a national park. This is especially the case for those planning is to drive within the area.
The Vatnajökull National Park is extremely popular among both Icelandic and foreign tourists, especially in the summertime. National park rangers and other employees of the park provide tourists with information. The employees' role is to receive guests and provide them with information on the national park as well as enforcing rules of conduct. There are many interesting sights and natural wonders near Skaftafell worth visiting. Visitors are encouraged to seek information from park rangers.
7. Jökulsárlón
Jökulsárlón is today one of Iceland's best known and most popular natural wonders, and for a good reason. A magnificent view welcomes you as you arrive there and it's almost like stepping into a fairy tale landscape. On a big glacial lagoon that Vatnajökull touches, enormous icebergs float around, but the landscape is otherwise dominated by black sands and rocks. The lagoon is effected by flood and ebb, making the lagoon a mix of sea and freshwater lake. This leads to feed being carried into the lagoon, that seals and common eider both eat, and this adds colour to the area. The lagoon is situated on Brei›amerkursandur, between the Skaftafell National Park and Höfní Hornafir›i. Jökulsárlón started to form in 1934-1935. Jökulsá on Brei›amerkursandur then ran straight down from underneath Vatnajökull, approx. 1ó km to the ocean. Since 1950 the glacier has pulled back steadily and an ever-growing lagoon has formed. In 1975 it was 7.9 kmÇ but has grown to be 18 kmÇ today because of the heavy melting of the glacier. The medium flow rate of the river is 250-300 mÑ/sec. and big as well as small icebergs regularly break from the edge of the glacier, that floats in the water. Icebergs of all shapes and sizes therefore float on the lagoon, which is very deep, or around 190 m. Frozen water is a little bit heavier than water in liquid form, which means that only 1/10 of the icebergs is above water. What is above water is often so big that it's difficult to imagine what lies beneath. The river that runs from the glacier and to the sea keeps getting shorter because of marine erosion, and in 1998 it was not much longer than 500 m. The lagoon's surface has steadily lowered, which means that while it was a lake before, it is now effected by flood and ebb. This simply means that warmer water flows into it during flood and the ice melts a lot faster than it did before. Both capelin and herring swim into the lagoon, and seals follow its feed there. Common eider also eats the fish and can be seen swimming in between the icebergs. It is an unforgettable experience to sail on the lagoon on boats and observe the colour changes in the ice, the amazing sculptures of nature and the animal life that thrives there.
8. Svínafellsjökull
This glacier is one of the easiest to enter in Iceland. Here you will have the change to walk on a solid ice.
9. Other places if interest
Hengil mountains – popular outdoor area for hiking, numerous hiking trails (in total about 125km).Hot springs, craters, Hellishei›i Geothermal Power Plant providing geothermal energy for Reykjavik. Selfoss – the largest town in South Iceland and main service center of trade and industry. In the summer of 1891, due to the lobbying of Tryggvi Gunnarsson, a member of the Alfling, the first suspension bridge was built over the Ölfusá. This was a major undertaking for Icelandic infrastructure. The bridge made the town a logical centre for services for the surrounding agricultural region. The current bridge was built in 1945 after the original structure collapsed. In 1900 there were only 40 inhabitants, but by 2006 the population had climbed to 6000. Aprx. 15km eastern from Selfoss before crossing Thjorsá river is possible to make short stop to see 3rd waterfall of excursion Urri›afoss on the river Thjorsá. Scenery is exceptionally wide, a ring of mountains, glaciers and islands. Here you can see the greatest lava flow on Earth since last Ice-age: The Thjorsa-lava.
During driving along south on the south-side on the horizont you can see Westman Islands. It´s archiplageo off the south coast. Islands are named after the Irish who were captured into slavery by Norse Gaels. The area is very volcanically active, like the rest of Iceland. There were two major eruptions in the 20th century: the eruption in 1963 that created the new island of Surtsey, and the Eldfell eruption of January 1973, which created a 200-meter-high mountain where a meadow had been, and caused the island's 5000 inhabitants to be temporarily evacuated to the mainland.
– From 1998 to 2003 the island of Heimaey was home to Keiko the killer whale, star of Free Willy. – Nowadays its also place of favorite summer music festival, fishing industry and bird watching. Hekla volcano – possible to see on the left side behind Selfoss (photo on the cover). An active volcano for centuries, the mountain Hekla is one of the most famous in the world. Old tales tell of the belief that the souls of the condemned travelled through Hekla's crater on their way to hell. The whole mountain ridge of Hekla is about 40 km long. The fissure which splits the mountain ridge is about 5,5 km long. The mountain is about 1491 m high. It is thought that Hekla has had at least twenty eruptions since the settlement of Iceland. The biggest eruption was in 1104. Hekla has erupted four times in the 20th century, the last time in 1991. Over the past 7000 years Hekla has had five big fissure eruptions. The biggest eruptions were 4000 and 2800 years ago.
Comments
comments